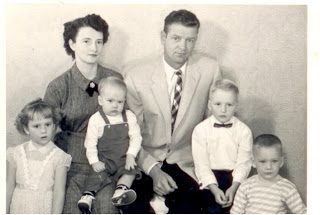 The day began with little excitement, as most days do. The news seemed focused on the activities of a certain ground hog and whether the winter months would drag on or see an early end. No one in our household would give either a second thought.
At 5:06 p.m. our focus was on dad, who had developed a sudden and severe headache, accompanied by nausea. Mom immediately got him into the family car and raced to the hospital.
Fifteen days later, a man of strength and vigor, 37-years-young…
A man that was vital and strong, and the "picture of health" – took his last breath at 10:26 p.m.
Ironically, it wasn't even the brain aneurysm that took his life. After a second, then a third brain surgery, it was determined that an allergic reaction to medication was the evil force that sucked his life away.
I have many wonderful stories about dad to share… I wanted to share this really important one today, in the hope of moving other dads – who are vital and strong, and the "picture of health" – to make a plan of action NOW regarding the future of their families.
Time and unforeseen occurrence befall us all. Buying life insurance is not nearly as costly as not buying life insurance. If you are not convinced, ask my mom or any of my seven siblings.